Introduction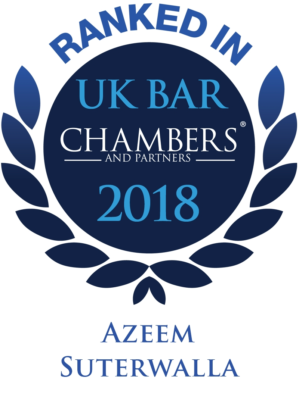 Azeem is a specialist in Judicial Review and Public Procurement law and undertakes litigation and advisory work in these fields. Azeem also undertakes cases with an EU law dimension, including competition work. He is recommended in the Legal 500 and in Chambers UK as a leading practitioner across three practice areas: Administrative/Public Law, Civil Liberties and Human Rights and Community Care. He has been described as having "amazing" knowledge and "the respect of the court", as a "courageous advocate who really pushes the boundaries", as well as "Bright and creative" and a "junior who is going places."
Azeem specialises in public and human rights law across a range of subject areas, notably children related (including education), community care and mental health, data and information, immigration and asylum and social housing. Many of his cases involve the application of fundamental human rights.
Azeem is currently instructed as Junior Counsel to the Independent Inquiry into Child Sexual Abuse ('IICSA') and leads the investigation into child sexual exploitation by organised networks. He is also a member of the Attorney General's B Panel of Junior Counsel to the Crown, advising and representing the UK government on commercial, regulatory and data protection/Freedom of Information matters.
Azeem also specialises in public procurement law and commercial judicial review. His clients include commercial operators, local authorities, charities and other public bodies. By way of example, Azeem is currently junior counsel (together with George Peretz QC), instructed by The Avaaz Foundation, in its judicial review challenge against OFCOM's decision to find that a merged Fox/Sky entity would be fit and proper to hold a broadcast licence. He is also instructed by a private organisation in a potential challenge against the Civil Aviation Authority, concerning the designation of airspace.
Azeem's work in EU and competition law includes acting (together with Daniel Beard QC and Josh Holmes QC) for a major "big six" energy provider, in a dispute with the Competition and Markets Authority, and (together with Daniel Beard QC) for a global pharmaceutical company in a patent dispute with another such company. Azeem is also junior counsel for the Claimants in ongoing litigation with respect to the Data Retention and Investigatory Powers Act 2014 – Secretary of State for the Home Department v Davis [2015] EWCA Civ 1185; [2016] HRLR 1; Tele2 Sverige AB v Post – och telestyrelsen (C-203/15); [2017] QB 771.
In addition to his High Court practice, Azeem is regularly instructed in appeals in the Court of Appeal and has worked on litigation at all levels up to the House of Lords/Supreme Court and the European Court of Human Rights. Azeem also regularly undertakes work in the Court of Protection.