Anneli Howard KC and Alan Bates appointed as Deputy High Court Judges
24 Jan 2023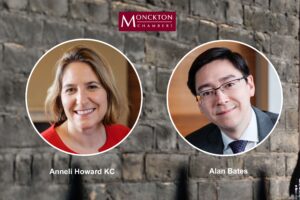 Chambers is pleased to announce that Anneli Howard KC and Alan Bates have been appointed as Deputy High Court Judges.
The appointments follow an open competition by the Judicial Appointments Commission. The role of Deputy High Court Judge is reserved for those who have the experience and expertise to deal with very complex cases which would otherwise be undertaken by High Court Judges.
Anneli and Alan will continue to practise full time from Chambers.
A full list of the Judicial appointments can be found here.